Flat sewer rods for 2" to 6" lines c/w steel spear head & holder
Product Code:
please contact us for pricing
---
---
Flat Sewer Rods
 

For the Do It Yourself Market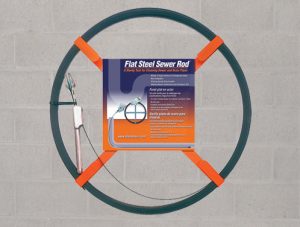 Made from non-kink able, high carbon, oil tempered steel. The Flat Sewer Rod is equipped with aluminum grip handle and steel spear head. With a comfortable, efficient Quick- Grip Handle that makes the work go faster
FEATURES
Sturdy tool for cleaning drain lines and sewers.
Oil tempered spring steel resists rusting and kinking.
Rod is bolted to frame so it can't spring out accidentally.
Efficient "Quick-Grip" handle makes work go faster.
Made in U.S.A.
FLAT SEWER RODS 1/2" (13 MM) X 1/16" (2 MM) (FOR 2" TO 3" MEDIUM PIPES)
Catalog #
Description
LB
25BH
Length: 25 ft. (7.6 m) in Pack of 4
17
50BH
Length: 50 ft. (15.2 m) in pack of 4
27
100BH
Length: 100 ft. (30.5 m) in pack of 4
50
FLAT SEWER RODS 3/4" (19 MM) X 1/16" (2 MM) (FOR 2" TO 4" PIPES)
Catalog #
Description
LB
25CH
Length: 25 ft. (7.6 m) in Pack of 4
21
50CH
Length: 50 ft. (15.2 m) in pack of 4
37
100CH
Length: 100 ft. (30.5 m) in pack of 4
70
FLAT SEWER RODS 3/4" (19 MM) X 1/8" (3 MM) (FOR 4" TO 6" PIPES)
Catalog #
Description
LB
50DH
Length: 50 ft. (15.2 m) in pack of one
18
100DH
Length: 100 ft. (30.5 m) in pack of on
34
Weight: 0.0 lb
---
Related Products